Counties We Serve
Coosa Valley Credit Union (formally General Electric Federal Credit Union) is a not-for-profit financial organization and is committed to providing superior personal financial services in a member-owned organization of "people helping people" through trust, care and financial strength. We've been operating in the Coosa Valley region since 1954.

Coosa Valley Credit Union membership is available to individuals who reside in the following 13 counties:
Bartow
Catoosa
Chattooga
Cherokee
Cobb
Dade
Floyd
Gordon
Haralson
Paulding
Polk
Walker
Whitfield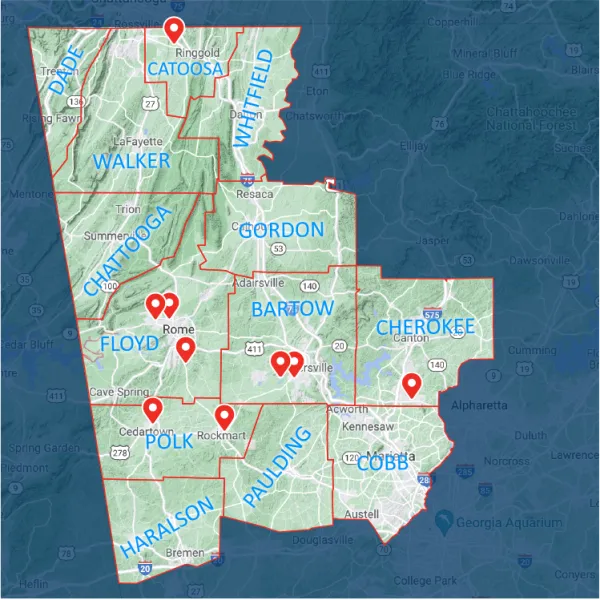 Credit union benefits are also extended to immediate family members. An immediate family member is defined as a spouse, child, sibling, parent, grandparent, and grandchild. For the purpose of this definition, immediate family also includes stepparents, stepchildren, stepsiblings, and adoptive relationships.

Selective Businesses in these counties are also eligible.

In order to take advantage of our services, you must first become a member. In order to do so, you must open a savings account that has a minimum opening balance of $25, along with a one-time membership fee of $5. Stop by any one of our locations to join today!

Once A Member, Always A Member
Even if you change jobs, move or retire, you will always be a welcome part of the Coosa Valley community. We will be your credit union for life!